Register a Domain in 3 Easy Steps
You're just 3 steps away from acquiring your first domain name. The best part is that you'll use a simple, intuitive domain search tool to experience a seamless transition of domain name registration.
1. Domain Name Search
Search for the perfect domain name with a domain extension of your choice. Register with a .com, .net, org or business specific domains such as a .cafe, .bar, .associates, .agency, or a .finance. Search over 400 plus domain name extensions with hundreds of country code top level domains.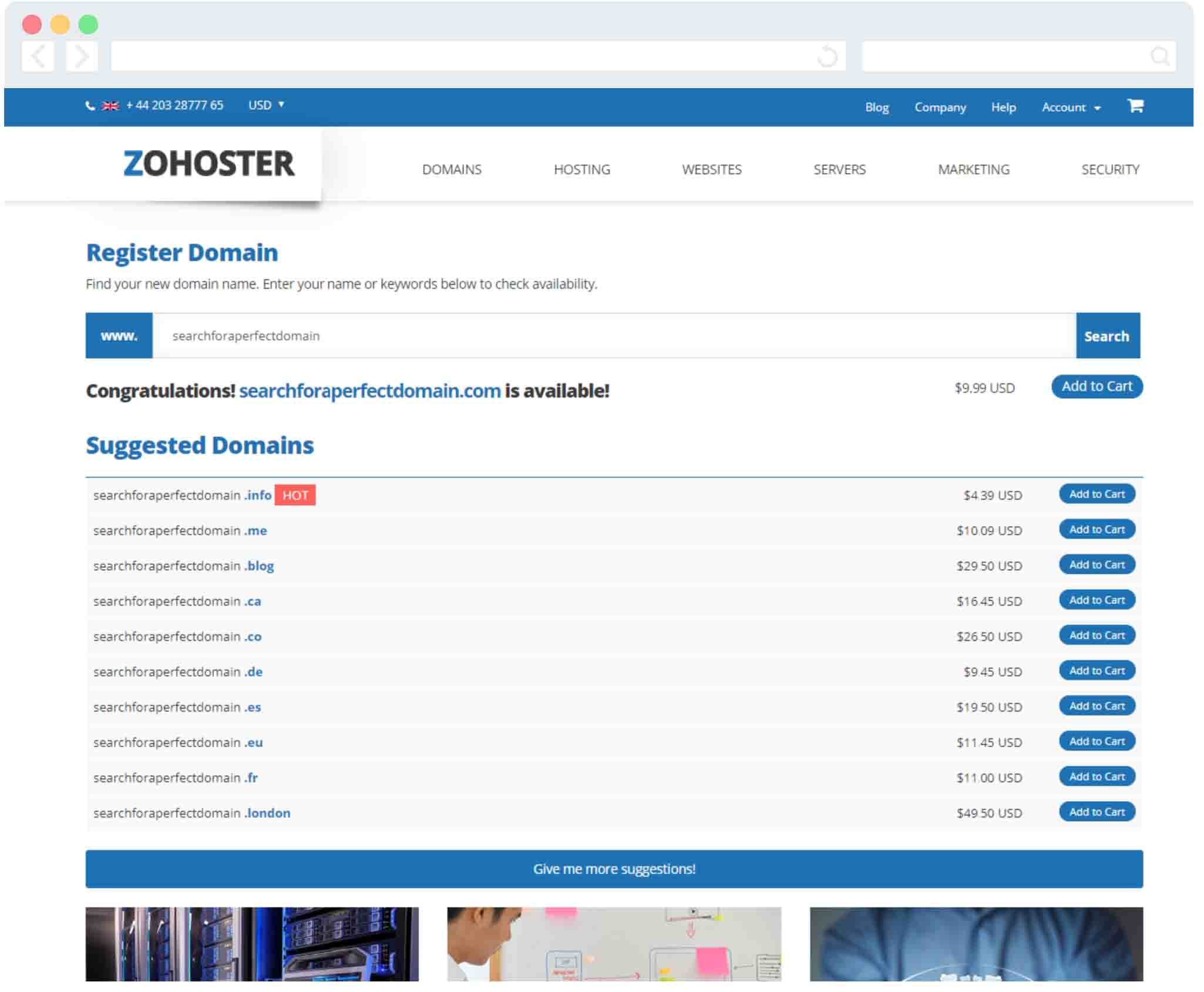 2. Select Domain Name
Select a domain name with your preferred choice of domain extension. In case you do not find a domain in your selected extension the domain registration tool automatically loads additional domain name suggestions for you with multiple domain extensions available for instant registration.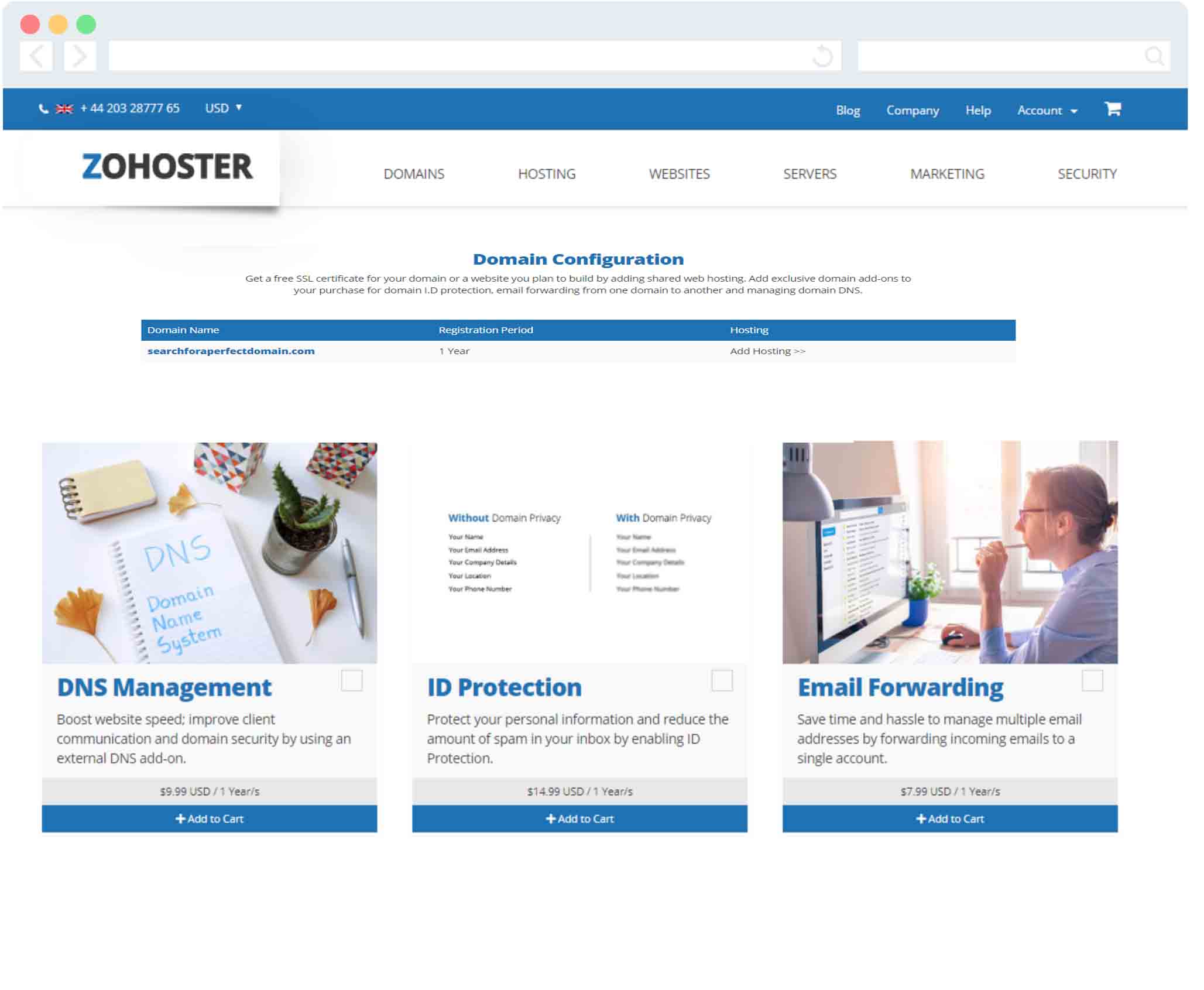 3. Select Domain Addons
Select any domain addons to add more value to your domain name. Domain add-ons provide easy DNS management, ID protection in order to prevent SPAM, and email forwarding services. Browse dozens of website templates available for instant deployment to have you go live within minutes.
Popular Domain Name Extensions
Browse over 400 domain extensions across 20 different categories to find the perfect match, in line with the nature of your business, the type of products you wish to sell, or the services you'd like to promote online.
Bulk Domain Tools
Experience seamless management of domains, domain look ups, and registrations using a series of professional tools built for bulk operations. Tools like Bulk Domain Checker, Bulk Domain Registration, and Bulk Domain Transfer can help you save time and do more.
Bulk Domain Search Tool
Search for domain names across 400 + domain extensions using an intuitive bulk domain search tool.
Search across 500 + domain extensions using an intuitive bulk domain search tool. Enter up to 50 domain names to check for availability. The bulk domain checker returns results with a list of domains that are available to be registered, and the ones that are unavailable. Add all selected domains to the cart and checkout to proceed with your order.
Bulk Domain Registration Tool
Register domain names in bulk and specify the number of years for each domain name registration.
Register unlimited domains with domain specific registration periods. Use the domain: years format to assign the number of years to register for a particular domain. You can also select whether to enable domain registrar lock which prevents domains from being transferred by default, or add ID protect per domain in order to prevent your contact details from being shown over the internet.
Bulk Domain Renewal Tool
Never lose a domain name using our advanced bulk domain renewal tool that can renew multiple domains in an instant.
If you're looking to renew domain names in one go, you can do that by using our advanced bulk domain renewal tool. Bulk domain renewal can help you save time and costs in order to renew your domain names before they enter in a grace or redemption period. Once the domain is expired, you shall incur extra redemption costs in order to recover your domains.
Bulk Domain Transfer Tool
Migrate your domains over to us in an instant and enjoy a one-year free extension from the date you initiate domain transfer.
Enter the domains you wish to transfer along with their authorization code "domainname.com, authcode". Customers can also add an ID protect for the domain to be transferred, and select transfer verification by fax, or auto-verification. Additionally, a registrar lock and auto-renewal options can be selected during the transfer process which prevents unauthorized domain transfers.
Why Register Domains?
Getting yourself a domain is the first step before you're all setup to promote your products and services over the internet. Find out why is it important to have a domain name in order to kick start your online presence.
Trademark Protection
Safeguard your trademark with a domain name to claim ownership of a business over the internet.
Getting a domain name similar to your business name helps you claim business ownership and prevents others from using it to drive away traffic from your website. As part of a successful brand activation strategy having a domain name similar to your business name is critical for your online presence. Having your company name in emails, on your website and most importantly as part of your domain name leaves a positive impact on your customer's mindset. Additionally, it prevents your competitors from using a name similar to your business to trick customers into buying from their website rather than buying from the original source.
Market Segmentation
Drive more traffic to your website with a domain name extension that best describes your business.
With almost 20 different types of domain categories and over 400 domain extensions it is highly recommended you select a domain specific to your niche, and customer preferences. Using a similar domain extension can help boost organic traffic to your website. Domain categories include business specific domains, country code top-level domains, education, geographic and city level domains, finance, real estate, shopping, sports and technology. Examples of domain extensions are .agency, .estate, .apartments, .actor, .agency, .bar, .builders, .boutique, .cab, .london, and .wiki to name a few.
Professional Email
Using a professional email address as opposed to free email increases your probability to win more business by almost 50 %.
Boost online sales by communicating with your customers the right way. Get an email@yourbusiness.com, create professional signatures and promote your business in every message delivered in the recipient's inbox. Create unique email addresses for every department, e.g. sales@yourbusiness.com, support@yourbusiness.com. Jump on board and get an email at your business name to build trust among customers, build brand identity, and strengthen your online presence. Jump on board and get an email at your business name to build trust among customers, build brand identity, and strengthen your online presence.
Domain Addons
A series of domain add-ons can help you maximize value for domain name registrations. Find out how I.D protection, external DNS management and email forwarding can help you prevent SPAM, boost up your web page loading times and organize emails in one place.
External DNS Addon
Boost website speed; improve client communication and domain security by using an external DNS add-on.
Domain Name System (DNS) helps the internet find a domain and its associated website. Email exchange between a website and other email service providers is also controlled by a DNS. The DNS acts as a powerhouse who monitors a domain, email exchange, website uptime and authentication alongside hosting infrastructure. If a website is hosted on a server which also hosts the DNS, a user is at risk of website downtime plus the collapse of the DNS in case of a server crash, immediately halting important business emails, domain name infrastructure and domain security. In order to mitigate the impact of server downtime we have introduced an external DNS add-on which enables you to host the website infrastructure and the DNS on two different locations. In case the hosting server experiences downtime, important business emails between you and your customers stay unaffected.
Improve website speed and uptime with reduced redundancy in case of server downtime.
Prevent loss of important emails between your business and its customers.
Protect your website against a DNS attack modifying your DNS information.
Starting from
$9.99/mo
Email Forwarding Addon
Save time and hassle to manage multiple email addresses by forwarding incoming emails to a single account.
Email and domain forwarder add-on maximize productivity for e-business owners as it allows a user to forward copies of incoming email received on a single or multiple accounts, and emails received on a specific domain to an all-in-one email catch in account for quick access. The catch-in email account acts as an ultimate recipient for email addresses or domains that have forwarders enabled helping you monitor a series of emails from one dashboard. Enjoy a completely new level of freedom with greater control to manage your important business emails. Easily view, edit, or remove domain and email forwarders directly from your client area without having the need to login into a separate control panel. Set permanent (301) or temporary (302) domain redirects. Furthermore, you can apply redirection on your domain with an option to use the "www" prefix or completely have it removed.
Create redirections for specific email accounts, email domains and directories.
Access emails received on a single or multiple inbox accounts, and domains from one place.
View, add or remove email forwarders with ease using a one-click function.
Starting from
$9.99/mo
ID Protection
Protect your personal information, reduce spam in your inbox and prevent domain hijacking with ID Protection.
Domain ID Protection is an add-on designed exclusively to protect your private information from being viewed over the internet. The add-on further prevents domain hijacking, an act of domain theft that changes domain registration without the permission of the original registrant resulting in loss of ownership, emails, and any financial income from a website hosted at the domain. As soon as a domain name is registered, regulations set by ICANN (an organization responsible for monitoring namespaces and domains of the internet) require your personal information to be robotically registered in a public directory, thereby rendering it accessible to the general public. Personal information includes your name, email address, address, phone number and related company details. Later it is compiled into email and phone lists having your name and business information to be sold over the internet thereby promoting unethical business practices.
Prevent unlawful access to your personal information from data scrapers and domain hijackers.
Keep SPAM emails, unwanted phone calls from reaching out to you without your consent.
Protect your domain name from domain hijacking and domain theft.
Starting from
$9.99/mo